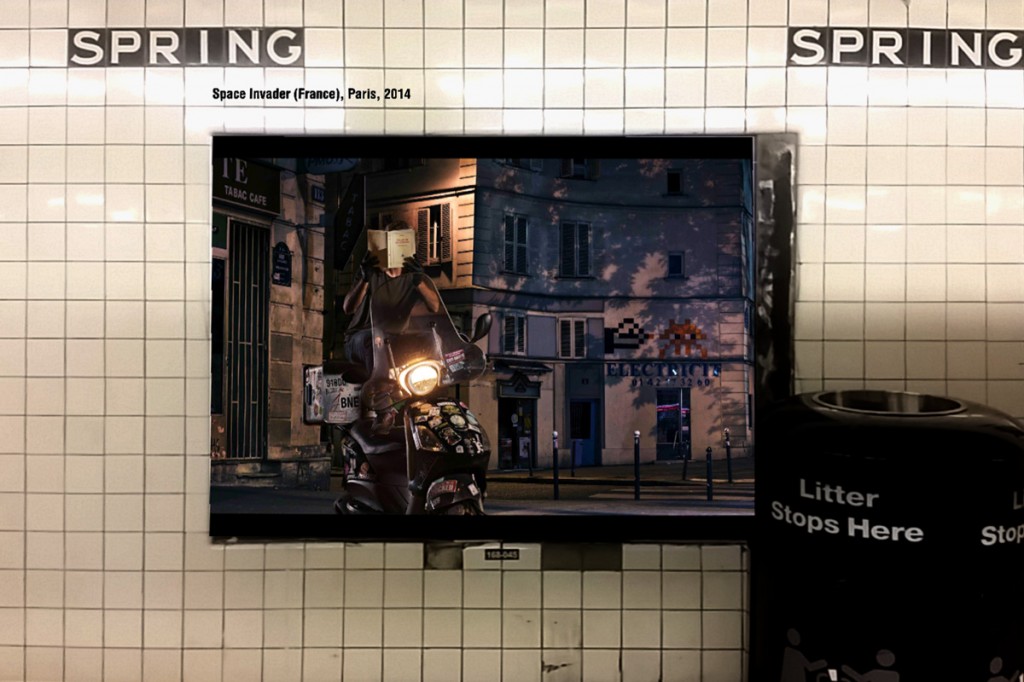 This week, the NO AD app updates to feature SURFACE, an exhibition of 100 portraits taken by Søren Solkær. Søren is best known for his distinctive portraits of musicians, including various iconic images of Björk, The White Stripes, Franz Ferdinand, David Lynch, The Arctic Monkeys, R.E.M. and U2. With SURFACE, Søren has trained his eye on Influential Street Artists and Graffiti Artists around the world.
"In 2012 I set out to do a large scale portrait project about individuals who create art in the public space.

I felt that this was the perfect time to portray the people behind one of the most powerful and prevalent art movements of our time. This took me on an incredible journey to roof tops, back alleys, train stations, studios and walls across the world.

SURFACE is the result of a three-year journey photographing in Berlin, London, Paris, New York, Los Angeles, Miami, Las Vegas, Stavanger, Athens, Sydney, Melbourne and Copenhagen."
Soren will be exhibiting the Surface project at Subliminal Projects in Los Angeles on April 25th 2015, and Allouche Gallery in NYC on May 2nd 2015. This month NO AD is excited to bring these images and personalities, that embody so fully the spirit of NO AD itself, to our users in the NYC subway.
Artists featured in the NO AD SURFACE Exhibition include: Aakash Nihalani – Above – Aec – Alexis Diaz – Andre – Aryz – ATH1281 – Axel Void – b. – Bast – Beau Stanton – Best Ever – Bio – Blek Le Rat – Borondo – Broken Fingaz Crew – Cost – Crash – Cyrcle – D. – Dabs Myla – Dal East – Dan Witz – Dasic Fernandez – D*Face – Dimitri Taxis – Dmote – Don John – ecb – Eine – Elle – ENX – Ernest Zacharevic – Evoca1 – Faile – Fintan Magee – Freedom – Gaia – Horfe – How Nosm – Hush – Husk Mit Navn – Hyuro – Icy and Sot – Jaz – Jimmy C. – Jordan Seiler – Kaff-Eine – Kashink – Kenny Scharf – Kid Zoom – Lady Pink – Lee Quinones – Lister – Logan Hicks – London Police – Louis Masai – Lovepusher – Lucy Mclauchlan – Ludo – Mark Bode – Matt Adnate – Maya Hayuk – Meggs – Meres – Miso – Miss Van – Mobstr – Nelio – Nicer – Nychos – Olek – Paul Insect – Phibs – Pixote – RAE – Reko Rennie – Risk – ROA – Ron English – Rone – Rostarr – Sabe – Seen – Sen 4 – Shepard Fairey – Shoe – Slinkachu – Sofles – Space Invader – Strok – Swoon – Theirry Noir – Tilt – Todd James – Vhils – Victor Ash – WK Interact – Zed1
About Søren Solkær
Søren's photography is characterised by finding a tension point between intimacy and edginess. His portraits are often regarded as cinematic in tone with a distinctive colour palette. The inspirations for his style as a photographer is ranging from filmmakers David Lynch and Wong Kar-Wai through to the works of photographer Philip-Lorca diCorcia and painter Caspar David Friedrich.
Søren has released four fine art photography books: Beat City (2006), CLOSER (2011) and Souls (2011), and Surface (2015), will be available at upcoming exhibitions in LA and NY – and in US book shops from May 15th. All books are available on Amazon.com as well as in stores world wide.
Søren's works have been exhibited in New York, Oxford, Copenhagen, Sydney, Melbourne, London, Edinburgh, Chicago, Milano, Napoli, Bratislava, Reykjavik, Cologne and Prague and are featured as part of the permanent collection in The Royal Danish Library and The National Portrait Collection in Frederiksborg Castle, Denmark.