This week we are proud to announce that the NO AD mobile digital exhibition space will begin working on Berlin subway and street levels billboards for the next month, bringing our unique concept to Europe for the first time. Users of the NO AD Berlin mobile app will find a curated exhibition of works from the previous NO AD NYC projects, including photographs, street art, gifs, and other exciting content.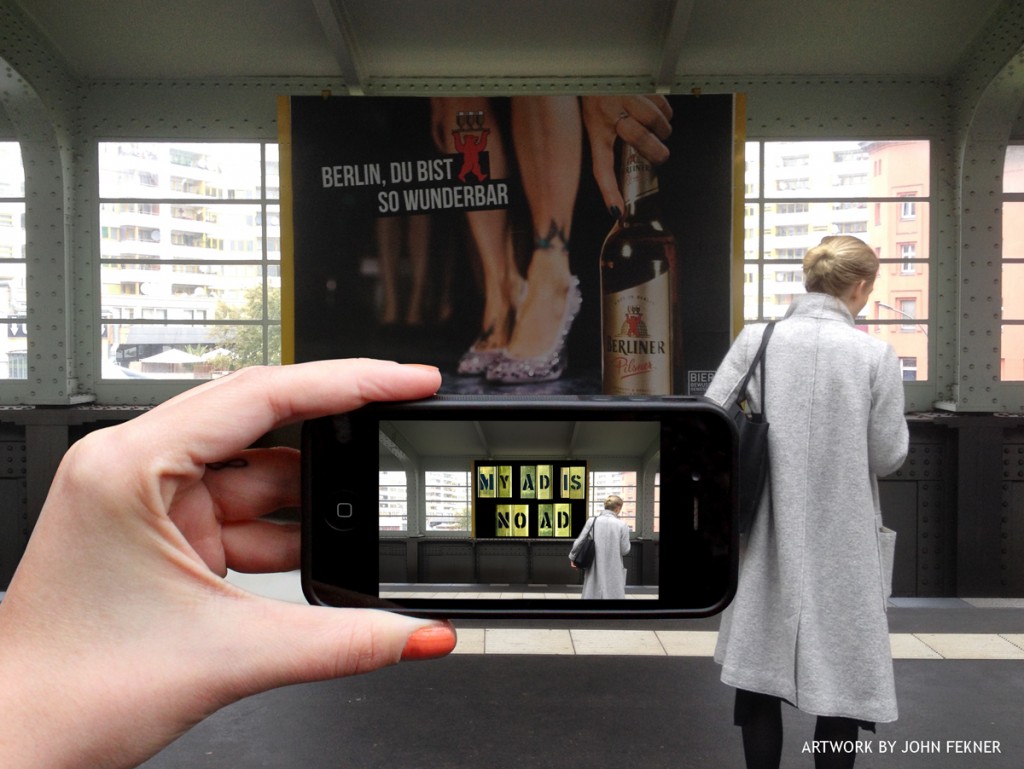 The NO AD mobile digital exhibition space began in New York City as a way to propose new strategies for art consumption as well as challenge the use of our public space for commercial messaging. NO AD works by using your mobile device and augmented reality technology to recognize outdoor advertising and overlay digital artwork in place of the advertisement on your phone or tablet. In NYC, the NO AD exhibition space took advantage of the vast number of subway advertisements in the NY transit system, turning every subway station into a mobile gallery. In Berlin, the NO AD exhibition space uses the the vast network of outdoor, and subway billboards found throughout the city. In order to reveal the exhibition, simply start NO AD and while standing directly in front of any billboard in Berlin, point your device at the advertisement.
NO AD Berlin is presented by PublicAdCampaign and Open Walls Gallery for Berlin Art Week, 2015. The images and artworks included are taken from a collection of past NO AD NYC exhibitions that include street art, photography, painting, and animation works.
Exhibition Dates: Sept 14th – Oct 31st
A big thanks to Guillaume Trotin, Aida Gomez, Letitia Jacquot for their support in Berlin without which this exhibition would not have been possible.